In late June we sent out a save the date for Gloria's fourth birthday party. Gloria has been obsessed with the Wizard of Oz since December 2014 and we wanted to capitalize on her interest before it passed.
To give ourselves some buffer after Ezra's due date, we scheduled the party for this past Sunday, a week after Gloria's actual birthday (and, as it turned out, also a week after Ezzy's bris). Gloria put on her "Dorothy dress" and her "ruby slippers" and we had an invitation photo shoot during Micah's nap.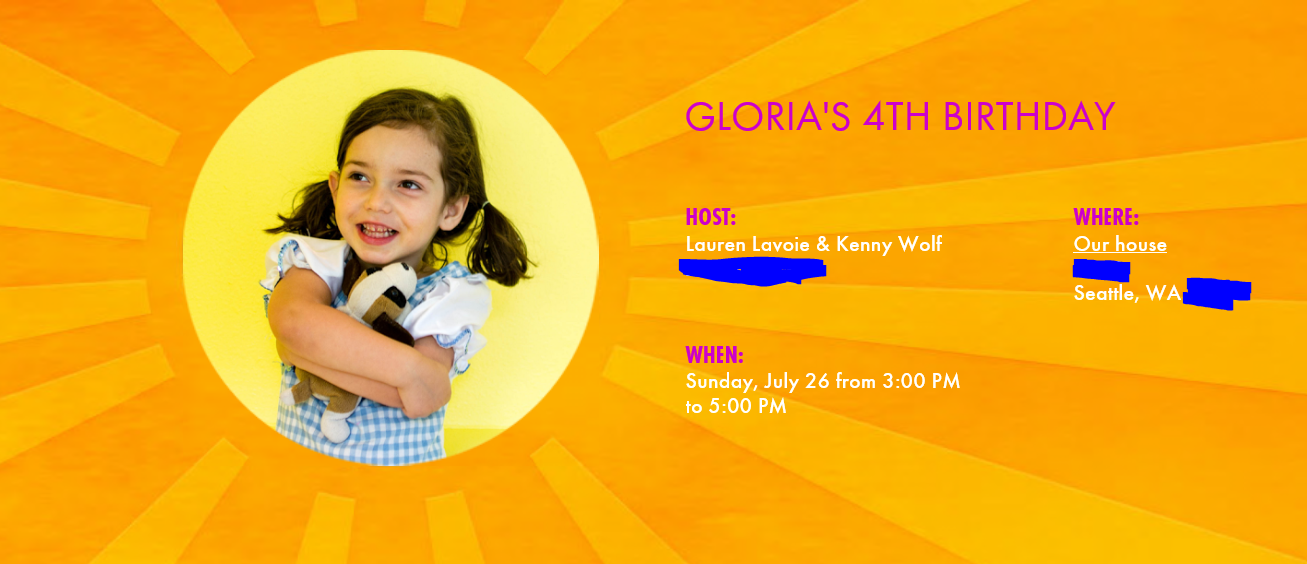 We were originally going to have the party at a nearby park, leveraging its jungle gyms and water features for party entertainment. Unfortunately, the forecast called for rain and we had to update the party location to our house (there's no place like home!). Which meant in addition to preparing treats and decorations we also had to come up with some party games.
With the big kids in bed at 6:45PM, it was time to get serious on our party prep. It's amazing what you can do when you forgo sleep for a night (which our newborn had been giving us lots of practice with over the past two weeks). Here are the steps we followed to put together a Wizard of Oz themed party for a four year old.
Step 1: Prepare some games
We researched some game ideas online. After sifting through a number of ideas, we decided to prepare two games. The first was Pin the Heart on the Tin Man. I zoomed in on the head and shoulders of a picture from the movie, and created the rest of the tin man from a roll of aluminum foil and a nature stick Gloria picked up outside a few days ago.
The second game was Melt the Witch. Lauren painted a wicked witch on a poster board using washable tempura paint. We'd fill water balloons the next day for the kids to melt her.
For party favors, we printed out some Wizard of Oz themed coloring and activity pages, tied them into scrolls with yellow ribbon, and finished them with our extra themed cupcake rings.
Step 2: Thematic treats
Fortunately our kids all have summer birthdays so we have no shortage of fruit available. We put together a rainbow colored fruit plate with strawberries, oranges, pineapple, kiwis, blueberries, and purple grapes.
Some of the few thematic items we had ordered in advance was cupcake liners and rings. As part of her late night trip to QFC, Lauren also found a pack of rainbow candy on sale, so we used those to top half the cupcakes (freeing up some of the rings for our aforementioned scrolls).
We made some white cake batter and lemon buttercream, and Lauren used the cupcakes as a warm up for the main cake-decorating event.
Step 3: Stay up late decorating a thematic cake
Each of the past two years we made Gloria a Hello Kitty cake, this year we were liberated from that labor. Instead (because we are sometimes crazy) we decided to recreate the Emerald City. We started with this image from the movie and proceeded to make an array of colored buttercreams. We progressed from the sky with a few clouds, to the yellow brick road, the Emerald City itself, the fields, and finally the poppies. We finished the cake just before 1AM, then we had to clean the kitchen.
Step 4: Wake up, have coffee, decorate the house
Fortunately we had done a little bit of advance planning and purchased a themed balloon set that included a particularly impressive rainbow balloon. Uncle Shawnie and Amanda used sidewalk chalk to turn our front porch into a yellow brick road. Yellow arrows led guests down the garden steps to the backyard (assuming it didn't start pouring).
Step 5: Welcome guests, play the games
Finally, party time. We let the kids mingle and snack for a half hour, and then started the party games. First the kids lined up for Pin the Heart on the Tin Man.
At this point it had started drizzling outside, which was the perfect atmosphere for Melt the Witch. The water balloons were a little challenging for our preschool crowd, so we upgraded to cups of water (from a bucket of course).
Step 6: Eat the cake!
We concluded as all good birthday parties should, with a feast of sugary treats on Emerald plates. Micah was especially into the cupcakes.